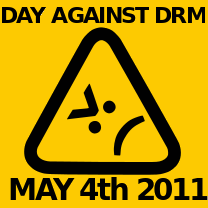 Today is the annual Day Against DRM, please remember to check your shopping list for possible DRM-ed products, and consider doing some of the ideas on the site… I can give you a few examples why this is bad.
First, I own an iPad and cannot use it. It won't be recognized by my Linux machine, I can't copy music or books to it, I can't browse my music collection on my server to play random songs, I have to sync it with iTunes (and only iTunes) that I have to run on a Windows virtual machine inside my Linux machine. It's dead slow, it won't sync up things from my iPad unless I find the magical option pull changes from iPad instead of the ubiquitous sync option, etc.
Secondly, the Play Station is a wonderful machine and many people wanted (and could) run Linux on it. Years ago there were clusters of Play Stations, since its GPU was powerful enough to do scientific computation (better than many computers at the time), but now, you can't even touch it without going to jail.
Finally, in the age of the internet, companies are still attached to material values such as possession and ownership, whereas the internet transforms everything into a service. Amazon, although they still use DRM on Kindle, they understood it quite well and have created the most important cloud service on the planet.
Why those companies are not using the same model for everything? Well, generally reality doesn't get transformed that quickly, so it was a great shock. But now society is demanding new rules for a new reality and the fact that many people are going to jail for preserving their own rights is alarming and a crucial sign that the old rules don't apply any more.
This day is to remind you that you are not alone in thinking that this is all wrong, that you should be able to listen to any music, on any device, anywhere, since the technology allows you to. If the business model does not account for it, change the business model!
May the 4th be with you…